Bettas are a popular choice for novice aquarists, as well as seasoned hobbyists. Their gorgeous long, flowing fins, along with their vibrant colors, attract all kinds of fish enthusiasts. Your Betta's colors won't peak until it reaches six to eight months old. There are many reasons that could cause your betta is losing color and fading during the prime of its life. 
Is your Betta fish turning white or black? Or is it fading and losing its coloring? One of the reasons you bought your Betta was because of its beautiful, vibrant colors, so you want to make sure your Betta stays healthy and keeps that vibrant color for life. 
In most cases, your betta losing color is normal. We will walk you through all the possible reasons your Betta could be changing colors, as well as giving you some solutions to stop this frustrating and potentially unhealthy condition. 
Why Is My Betta Fish Losing Color?
As we mentioned above, sometimes the loss or changing of colors is normal. There are a variety of reasons your Betta is losing its colors, and once you know the reasons the color change is happening, you can apply the proper solution. The following are the main reasons your fish is changing colors.
Unfortunately, your Betta's colors will start fading when they enter into their twilight years. Normally, a Betta lives for a maximum of five years, and as it gets closer to that five-year mark, it might start to lose some of its colorings and begin to fade, usually around three years old. 
However, there are some instances where Betta fish began losing their coloring as early as two years old. Once you have ruled out any other reason for its loss of coloring and you are sure it's not stressed, then it might be that your Betta is beginning to age, and the color loss is natural.
Certain diseases can cause color changes in your Betta fish. Although, if it is a disease that is causing the coloring change, the change will usually be to a white color, depending on that particular disease. 
The Velvet disease, for example, may start out white, but eventually, begin to take on a goldish color. Ich is a very common disease in Betta fish that causes tiny white dots to appear on their fins and bodies.
Stress for fish is a serious problem that can lead to illnesses, loss of color, and, eventually, death. Stress can cause your Betta to begin losing its color. Although Betta fish seem to be a hardy species, they do need at least a five-gallon heated tank with a good filter for optimum health. 
Betta fish are carnivorous and should be fed a well-balanced diet of quality foods rich in protein and nutrients. Their tank should be maintained with regular water changes ensuring the water conditions stay at their proper levels. Failure to properly take care of your Betta will result in your Betta becoming stressed and unhealthy, and their color will begin to fade.
If Betta has suffered an injury to their fins, when the fins begin to heal themselves and grow back, the coloring may be darker or lighter. Damaged fins from fin rot can often change colors. In this instance, this is nothing to be worried about. It's natural. 
When a Marble Betta Change Color
Marble Bettas are known to change colors at times. As long as you have ruled out any of the above causes for the color change, you shouldn't need to worry. 
Over its lifetime, a Marble Betta fish will sometimes change colors several times. They rarely stay the same color throughout their whole life. The same can also be said for normal Betta fish. However, for them, the color changes don't occur as often.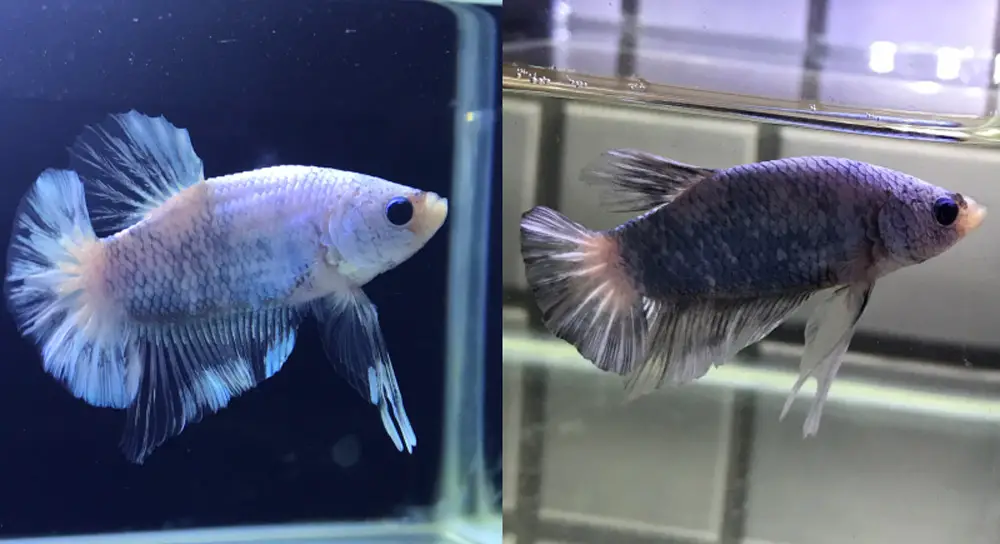 Why Is My Betta Turning Black?
If your Betta has begun to turn black, but they aren't showing signs or any symptoms of an illness or stress, don't worry. As we've mentioned previously, it's normal for Betta fish, especially Marble Bettas, to change colors.
However, be on the lookout for signs of stress or illness in your Betta. If your Betta is not eating, hiding a lot, or lethargic, you need to start checking for possible causes or illnesses. 
Why Is My Betta Fish Turning White?
While turning black isn't necessarily a serious issue, you should be concerned if they begin to turn white. When your Betta starts turning white, there are several possibilities that you need to rule out to pinpoint which disease your Betta has so you can begin treatment immediately.
Even though we have already mentioned stress as a possibility for your Betta changing colors, you shouldn't underestimate exactly how much it can hurt your Betta. 
If your Betta is naturally pale in color, then they might very easily start looking whitish in color when they become stressed. To avoid this, make sure your Betta is happy and healthy, remaining stress-free. 
One possible reason your Betta is turning white could be columnaris. Columnaris is actually a bacterial infection that causes white spots to appear on your Betta's body. The white spots have a fluffy appearance. Along with the white spots on your Betta's body, you might notice sores or ulcers on their body, as well as fraying around their fins.
Anchor worms are another reason your Betta will appear to turn white. Anchor worms are tiny worms that vary in color but are usually white. The worms can cause your Betta to start acting lethargic or cause difficulty breathing. 
If you notice your fish scraping and rubbing against objects in the tank, or see that they have sores and ulcers on their body, you should start checking for anchor worms. Luckily, anchor worms are not common in aquarium fish. 
Ich is a disease that causes white spots to appear on your Betta, as well. Those white spots are actually a parasite called Ichthyopthirius multifiliis. This parasite spreads rapidly and causes lethargy and a loss of appetite. 
You may also notice your Betta fish rubbing its body on things in the tank in an effort to remove the unwanted parasites. If you suspect your Betta fish has ich, you should quarantine it and start treating it immediately to keep it from spreading to any other fish in your tank.
Fin rot will cause only your Betta's fins to appear to change colors. It becomes more apparent when the fins begin to look damaged or frayed. If you suspect fin rot, you need to take immediate action to prevent any further damage. 
If left untreated, fin rot will turn into body rot. If the disease reaches this point, you will probably not be able to save your fish.
How to Boost Betta Color?
Fortunately for you, there are a variety of ways to begin improving your Betta's coloring. Although, if the color change is natural, due to old age, for example, you won't be able to stop the color change. 
However, if there are external factors that are causing the color change, there are several things you can do to enhance your Betta's coloring. 
Your aquarium's water quality plays a crucial role in keeping your Betta healthy and safe from diseases. There are several different ways you can ensure your tank has the best possible water conditions for your Betta.
Put a Heater and Filter in the Tank
Providing a heater and a filter for your Betta's tank will also go far in improving your Betta's health and happiness. Because of their tropical nature, Betta fish need both a heater and a filter. Despite what you've been told, Betta fish will not survive for very long in a fishbowl. If they do survive, they will not be healthy or happy. 
Perform Regular Water Changes
Frequent water changes are vital to your Betta's health. The size of your tank will determine how much water will need to be changed out and how frequently it should be changed. For example, if you have a ten-gallon tank, you will need to do a 30% water change every two weeks. 
For smaller tanks, you will need to change out the water more frequently because the water conditions will change faster in smaller tanks than they do in larger tanks. For larger tanks, the water conditions change slower, so you won't need to change the water out as frequently as you would with a smaller tank.
Bigger is Better When it Comes to Tank Sizes
One of the most important things you can do for your Betta is to make sure that the tank you put them in is big enough. You should not go any smaller than a five-gallon tank. 
Bigger tanks are better for your fish because it takes more time for the water parameters to start changing. To understand this better, think about how long it takes one gallon of water to cool down as opposed to ten gallons of water. 
Feed Them a Color Enhancing Diet
In addition to keeping the water conditions at a healthy level, you should also make sure you are feeding your Betta fish a diet rich in proteins, vitamins, and nutrients that includes foods that are known to enhance their coloring. 
Your Betta fish are carnivorous and need a wide variety of foods, including live foods, freeze-dried foods, and high-quality flake and pellet foods.
Always make sure that your Betta's diet is rich in protein, vitamins, and nutrients. Feeding them a diet of high-quality foods is a necessity. If you purchased inexpensive fish food, you risk feeding your Betta fish subpar nutrition. Paying for a premium, high-quality brand will pay off in the long run. Your fish will be happier, healthier, and more colorful.
Salmon is a wonderful addition to your Betta's diet. It's commonly used to enhance a Betta's coloring. Because it's rich in fats and proteins, you shouldn't feed it to them very often, only feed it to your Betta twice a week, which can cause constipation. 
When feeding your Betta fish salmon, you have two options. You can either cut the salmon into tiny pieces for them to eat. Or you can buy high-quality fish food that contains salmon.
Another great color-enhancing food for your Betta is Daphnia. Because Daphnia is a crustacean, it has carotenoid pigments, which will enhance your Betta's coloring. 
Don't Overstock Your Tank
You want to avoid overstocking your tank. If you have a large tank, it can be easy to get carried away, filling it with all sorts of colorful and beautiful fish. However, overstocking your tank can lead to health issues for all of your fish, especially your Betta fish. 
One rule of thumb you can go by is one gallon of water per inch of fish. However, each fish is different, and there are some that might have different requirements. Be sure to educate yourself about each fish you purchase so you will know how best to take care of your fish and your aquarium.
As you have seen, there are multiple causes for your Betta to lose its coloring. When your Betta's coloring begins to fade or change colors, knowing all the possible causes will help you rule out other possibilities. Some of the main points to remember include:
Stress, illnesses, injuries, and old age can cause your Betta to start losing their coloring.
Some Betta fish lose their coloring naturally, such as the Marble Betta.
Unless your Betta is showing other signs of illnesses, you shouldn't worry overly much if they begin to turn black.
If your Betta is turning white, you should rule out columnaris, ich, fin rot, stress, and anchor worms.
Your Betta's coloring can be improved with high-quality, color-enhancing foods.
Maintaining good water conditions and not overstocking your tank with too many fish.
We hope you enjoyed this article. Be sure to check out our other articles on our website.
Was this article helpful?