The debate over whether fish tanks should have a cover or not continues today. Some enthusiasts believe a lid is essential for both marine and freshwater tanks, while others love the beautiful look of topless aquariums.
Beyond that, the terms aquarium lid, hood, and canopy often get people confused because they think they are one in the same. In reality, all three items serve different purposes for your fish tank.
So when you set up a 55 gallon fish tank, should you get a cover? Which type does your aquarium need, and is it time to ditch the store-bought canopy and build your own custom setup?
The Debate Over Topless and with Cover
You might be surprised to hear that people are debating whether or not it's a good idea to cover aquariums, but this has been an ongoing controversy for some time.
Below I have outlined the key advantages of having a cover and going topless in the following points:
Covered
Topless
– Keeps jumpers from carpet surfing.
– Reduces water evaporation, especially for a saltwater aquarium.
– Has a barrier between the lighting and the water, which is helpful for cleanliness.
– Preventing the salt from creeping into the light fixtures.
– Pets and children safe
– Preventing contaminants
– Reduces noise levels.
– Prevents fish from jumping out of.
– Provides a place to put some equipment.
– Aesthetics
– Better for gas exchange
– Better for lighting
– Easier access
– Easy to maintain

55 Gallon Tank Lid & Hood Dimensions
Standard 55 gallon fish tank dimensions are 48″ (L) x 13″ (W) x 21″ (H) (122 cm x 33 cm x 53 cm). In most instances, you will need TWO 24″ (L) x 12″-13″(W) lids or hoods.
I heard that some companies sell full-length lids for 55-gallon fish tanks. But I wouldn't risk this because of the cross brace on the tank unless you could confirm that it is just a "kit," which includes two 24″ (L) x 12″-13″ (W) glass panels.
Aqueon(All Glass) and Marineland (Perfecto) (Lid) Hood
In the glass aquarium business, there are two largest players make 55-gallon aquariums, including:
Spectrum brand groups [1]: Tetra, Marineland, Perfecto 
Central Garden and Pet brand groups [2]: Aqueon, All Glass
No matter which brand of glass aquarium you have, either Spectrum aquarium lines or Central Garden & Pet aquarium lines, be aware that the aquarium covers they offer will not be compatible with each other. 
Another problem here is a big-box pet store often carries these tanks under their own store brand by covering up the true manufacturers, but if you look closely at the inspection labels or labels on the plastic light hoods, you can tell they are kit-branded.
If you have an Aqueon or All Glass aquarium (including rebranded) and try to put a Perfecto (or Marineland) cover – it won't fit even though both two aquariums are standard dimensions.
How to Determine the Lid & Hood Dimensions?
Simply follow these easy instructions to find the correct dimensions:
Step 1: What Are the Dimensions and Brand of Your 55 gallon Fish Tank?
If you know the brand of your aquarium, the job is much easier. Some aquarium brands, such as Aqueon offer their own branded lids and hoods.
Step 2: Does Your Aquarium Has a Center Brace?
If you can't find the brand or model number of your aquarium, don't worry. The next step is to check if your aquarium has a center brace.
It is a horizontal bar that runs the length of the tank in the middle and is used to support the weight of the glass, which determines whether you need one or two lids/hoods. 
Basically, 55-gallon fish tanks that have a center brace will need two lids or hoods.
Step 3: How to Measure Aquarium Opening?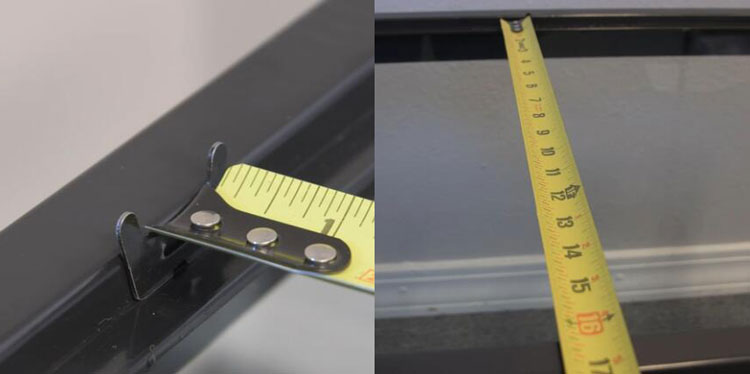 If your aquarium has a center brace, measure the length from one inner edge of the tank to the inner edge of the center brace. Write this number down. Also, measure the width from the front inner edge to the back inner edge. Write this number down too.
If you have used or old 55-gallon aquariums from a garage sale that don't have a center brace, you should consider adding one instead of looking for a full-length lid.
Type of Aquarium Cover
In pondering a cover for your 55 gallons fish tank, you may decide which type you need based on a few factors. The following table provides a comparison of the three main types.
Type of Cover
Pros
Cons
Glass Lids
– Most durable
– Effective
– Versatile 
– Easy to clean
– bit more expensive
– Does not include lighting
Hood
– Built-in lighting
– Less expensive
– Does not fit tightly
– Become brittle over time
Canopy
– Stylish (Made of wood)
– Comes with lights
– Expensive
Once you come to grips with the pros and cons listed above, it's time to choose a cover. And that decision will come down to two primary factors: size and budget.
55g Aquarium Glass Lid (Canopy)
As we mentioned earlier, the glass lid, or glass canopy, is by far the most durable and effective type of aquarium cover. But, it's important to weigh the following downsides before making a decision.
First, a glass lid will reduce gas exchange at the surface, and in turn, excess CO2 builds up in the water column, causing low PH. This is why I recommend using a power filter to help with gas exchange in a 55-gallon aquarium.
Additionally, a glass lid on your aquarium creates a greenhouse effect [3] by trapping heat from your lighting, causing the water temperature to rise.
If you're going to buy a glass lid, ensure it comes with a plastic strip on the back of the glass top, where you can cut cutouts for custom filters and other accessories with scissors or a utility knife.
Most commercial glass lids typically don't include lighting. They have a simple design – two panes of glass connected in the middle with a dark plastic hinge. To illuminate your aquarium, you will need a compatible light fixture for the glass cover.
3 Commercial 55 gallon Fish Tank Lids
To help you with your search, I have gathered 3 of the best options currently available.
Sale
Aqueon Aquarium AAG29024 Glass Versa Top, 24-Inch...
Glass tops reduce evaporation from aquarium
Keep jumping fish inside the aquarium with full length feeding door
For use with light fixtures and strip lights
Glass top hinge has clear strip that can be cut to custom fit around accessories
Aqueon products ONLY work with other Aqueon products
As is advertised, Aqueon Versa Top is only recommended for use with Aqueon and All Glass aquariums. The dimensions are 24.5 x 5.25 x 1.25 inches, so you will need two pieces for a 55g Aqueon aquarium.
It's made of high-quality tempered glass and features a plastic back strip that can be cut to custom fit around your aquarium equipment.
Price at time of publish: $45.98 for 2 Pieces
H2Pro 24" Glass Canopy for 15/20/ 55-Gallon Aqueon...
This will NOT fit 55 gallon Marineland brand fish tanks. Only Fits 15/20H gallon Marineland & Perfecto...
Dimensions with back strip: 23.07 x 11.69 x 0.16in (58.6 x 23.2 x 0.4cm)
Features new and improved tempered glass; durable and reduces evaporation.
Clear Plastic back strip that can be cut to fit your Marineland & Perfecto aquarium. Provides the area...
Includes easy lift handle with 3M double sided tape.
Similar to the Aqueon Versa Top, this glass canopy works by connecting two pieces of tempered glass with a plastic hinge. The unit is 23.07 x11.69 x 0.16 inches and also comes with a vinyl strip that can be cut to fit your aquarium.
The manufacturer claims this lid is compatible with 55 gallon Marineland & Perfecto brands fish tanks and will NOT fit Aqueon or All Glass aquariums. 
The clear hinge on this product is my favorite feature because it doesn't obstruct light and cast shadows the way that Aqueon Versa Top's dark plastic hinge does. But, customers have reported that the hinge is a bit stiff to start.
Perfecto Manufacturing R01929 Glass Canopy...
A crystal clear glass canopy provides the area for your lighting to sit while allowing easy access to...
Just install the handle(provided) with the double sided tape
The vinyl strip on the back is convenient for custom set ups so you can cut where you need holes
Another glass canopy option for a Marineland or Perfecto 55-gallon aquarium, but at a low price. Don't let the picture fool you, and this is a two-piece set, each with actual measurements of 23″ x 9.5″ (not including the vinyl strip on the back.)
Price at time of publish: $54.99 for 2 Pieces
DIY 55-gallon Aquarium Glass Lid
There are certainly pros to making your own glass lid, especially if you don't know the brand of your aquarium. A custom aquarium glass canopy can:
Be made to any size specifications
Use high-quality tempered glass
Choose your own clear hinge and handle hardware
Dress up the top of your aquarium
Hide the equipment
Here are our favorite instructions for making a glass canopy: 10 Easy & Fun DIY Aquarium Lid Ideas
55g Aquarium Hood
Aquarium hoods are popular because they usually house the aquarium light. In general, the combo is normally cheaper than buying a separate lid and lighting unit.
Don't skimp on your aquarium lights when it comes to aquarium hoods. Inexpensive brands often have low-quality lights. Make sure to check the quality and specifications of the light fixture before making your purchase.
Also, if you're not into do-it-yourself, be sure to buy a Marineland or Perfecto hood for Perfecto-Marineland" aquariums (this includes all rebranded products) and an Aqueon or All Glass hood for their company's aquariums.
3 Commercial 55 gallon Fish Tank Hood
Aquarium hoods are not quite as popular as they used to be because of the numerous lighting options that have become available. That said, I have gathered 3 of the best options currently available.
Sale
Marineland LED Light Hood for Aquariums, Day &...
Actual Dimensions: 22.94" x 11.38" Fits most 24" x 12 " Aquariums
DOMED HOOD: Sleek design with energy-efficient LED light bar.
NATURAL EFFECT: White LEDs create a shimmering illumination that mimics sunlight's natural underwater...
NIGHT LIGHT EFFECT: Enjoy your aquarium at night by switching to the blue night light mode.
HINGED: Includes two sets of hinges to fit most popular frame sizes – for easy access during...
If you have a MarineLand or Perfecto with live plants or simply want to replace your old incandescent bulbs that give off too much heat, this unit from MarineLand is a great option.
This LED light hood is 22.94″ x 11.38″, comes with various clips in different sizes, and can be adjusted to fit a 55-gallon tank perfectly.
Don't worry about LED lighting – the brightness of the LED lights can be quite calming, especially the blue LED lights used for nightlights.
Sale
Aqueon Deluxe LED Full Hood - Black - 24"
Designed With Your Aquatic Pets Safety And Health In Mind
Materials Designed In The Usa
Quality driven, Competitive Price and Ease of use with Aqueon
Fits Aquarium Size:15, 20 High, 30 Extra High, 33 Long, 40 Long, 55
This light is perfect for anyone who needs a hood light combination for an Aqueon or All Glass 55 gallon fish tank.
To help save you time on cleaning, the entire unit is easy to disassemble because the cover is separate from the light.
This unit also has three light settings: a daytime light, a blue nighttime light, and an off setting. You can change the mode by pushing the switch in different directions.
I was surprised by how high-quality and well-tailored the product is. You could even add a second light in the hood–it's that roomy!
Sale
Aqueon T8 Fluorescent Deluxe Full Hoods, 24-Inch...
Dimensions 23.8" x 9.6" x 3.3"
Fits Aquarium Size 15, 20 High, 30 Extra High, 33 Long, 40 Long, 55
Designed to fit most aquariums
T8 Lamp and splash guard included / Fits tightly inside aquarium rim
Full length feeding door / Plastic breakout sections in the back of hood
Have an old Aqueon or All Glass fish tank that is not equipped for LED lights? Then the Aqueon Fluorescent Deluxe Full Hood is the top pick to brighten up your aquarium.
This budget-friendly aquarium hood has a sleek design and houses one T8 fluorescent bulb. The splash guard is included, so you won't have to worry about water damage.
The dimensions is 23.8″ x 9.6″ x 3.3″, features perfect size cut-outs for the filter. Plus, there is no extra open space,
I love that the filter cutouts are perfect in size. Plus, there's no extra open space where my cats could potentially drink from the tank.
55g Aquarium Canopy with Stand
In the trade, the word "canopy" is often used to refer to glass lids. But in the hobby, it is more commonly thought of as a decorative top that is often made of wood and matches the materials on the aquarium stand.
They cost more than the other two types. In some cases, they can even be more expensive than the aquarium. Of course, the high-end finish and built-in look remain unmatched.
If you want a custom stand and canopy, stop by your nearest local craft store or take the DIY route!
What to Look for in an Aquarium Lid (Hood)?
Some of the key things you want to look for when choosing a 55 gallon fish tank lid are:
Brand: many lids are made to fit specific brands of tanks.
Dimensions: make sure it is the right size for your tank.
Type: glass lid, hood, or canopy; each has its own set of pros and cons.
Material: most lids are made of glass, but some are made of acrylic.
Setup: make sure it compliments your setup, specifically your lights.
Price: aquarium lids can range in price from $30 to $200.
Functionality: ensure the lid has everything you need, such as cutouts for filters and lights.
Cat Safe: make sure the lid you choose is safe for your pets.
Conclusion
An aquarium lid or hood is a major part of having a safe and beautiful aquarium. The right device is very beneficial to live plant aquariums as well as fish-only tanks.
There are a wide variety of aquarium lids on the market to choose from, so be sure to do your research before making a purchase. I learned this the hard way, and so I hope this article spares you the trouble.
And, as always, feel free to reach out to me if you have any questions!
Article Sources:
Spectrum group brands list [spectrumbrands.com]
Central Garden & Pet Company group brands list [central.com]
Heating with the Greenhouse Effect [Scientific American]
Was this article helpful?