Christmas is the time to really let your creativity shine. So why not add a little extra holiday cheer to your home by decorating your aquarium with some festive Christmas decorations?
There are so many different ways that you can deck out your fish tank for Christmas. Sometimes store-bought decorations are WAY too expensive, but there's something special and fun about making your own Christmas aquarium decorations that money simply cannot buy.
Here are some of my favorites Christmas tank decor ideas around the internet:
Christmas Aquarium Figurines
If you're a little short on time and want to add a few quick and easy decorations to your aquarium, then these Christmas figurines are the way to go. You can find all sorts of Christmas-themed characters online or at your local pet store.
One thing to keep in mind is that you'll want to make sure that the figurines are made out of an aquarium-safe material that won't leach any harmful chemicals into the water.
Baoer Christmas Aquarium Decoration,Fish Tank...
-- Cartoon Christmas series decor design, will make a dense festive atmosphere
-- Made of plastic and resin material, safe and no rot or any algae problems
-- Great desk accessory, perfect addition to any Christmas decor; Christmas tree decoration for fish...
-- Not easy to fade, makes exciting landscape in any aquarium
Aquarium Christmas Window Cling Stickers
Simply arrange, apply, and enjoy a snowy aquarium wall scene. While it may look incongruous with your living underwater, and it isn't for everyone! This is an especially good idea if you live in a particularly warm, dry locale and want to give your fish a taste of winter.
You can remove them easily and not worry about the mess on aquarium glass because there is no glue on it. I will advise you to keep the packaging. This way, once the season wraps, you can take them off your aquarium and store them away until next December.
300 PCS 8 Sheet Christmas Snowflake Window Cling...
Package includes: 8 sheets Christmas window decals stikcers, 300 pcs decals in total.
Size: Each Christmas window cling sheet measures 7.9 in× 15 in.
Double-Sided Design: These Christmas elk window clings are full of Christmas elements, six of cling...
Easy to use: This kind of snowflake removable clings are used with no glue, just clean cling on smooth...
Applications: This Merry Christmas decals are suitable for Christmas party, Holiday indoor decorations....
Aquarium Gravel for Red Accents
Red is a sign of the season, so going all-out with festive aquarium gravel can be a great way to tie in the color scheme of your other Christmas decorations or even just add a pop of Christmas color.
This wonderful The Little Mermaid themed aquarium I found on Pinterest is a perfect project of how you can use Christmas gravel to make your aquarium stand out, especially for five-year-old girls! Adorable castles, Princess Ariel, and red aquarium gravel throws in the cheery hue.
You can find red aquarium gravel at your local pet store or online. Rinse it thoroughly before adding it to your tank so that you don't cloud up the water.
imagitarium Strawberry Red Aquarium Gravel...
Strawberry Red Aquatic Substrate from Imagitarium
Helps simulate a positive natural environment
Promotes the growth of healthy bacteria which breaks down waste
Reduces the amount of unhealthy debris in the water
Santa Swim Thru Aquarium Ornament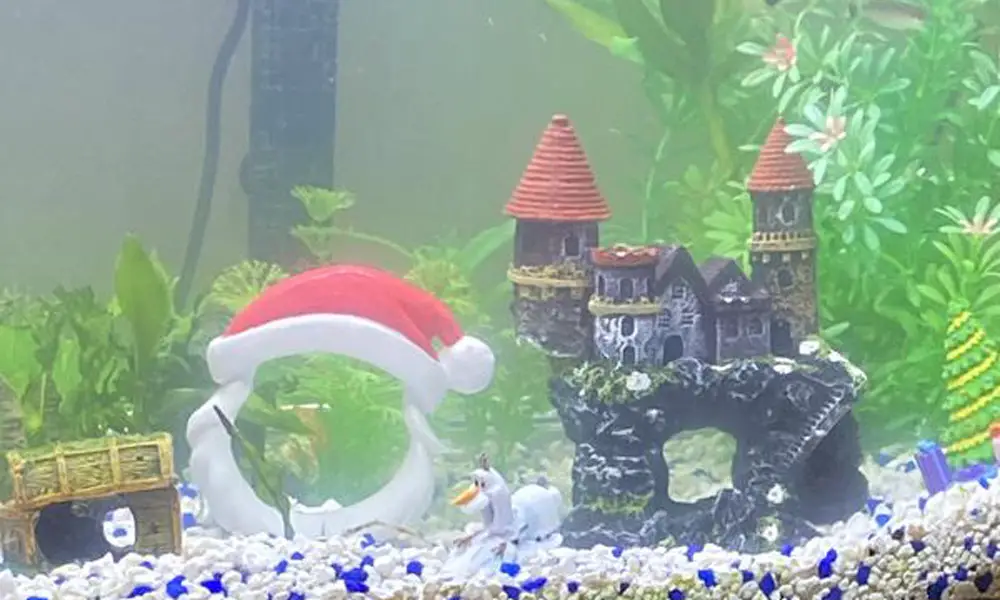 This Santa Swim Thru aquarium ornament will have you and your fish ho ho ho'ing throughout the holiday season. It's a fun and festive way to decorate your aquarium, and it's sure to get you into the holiday spirit.
This particular ornament is made out of non-toxic, fish-safe material, so you don't have to worry about it leaching any harmful chemicals into the water.
Shop here: Petsmart
Glow-in-the-Dark Aquatic Ornament
Although these glow-in-the-dark aquatic ornaments are not explicitly sold as Christmas decorations, there's no doubt that they can make your aquarium look Christmassy by adding an alluring array of brilliant colors.
For a fun twist, consider adding a brilliant accent to your aquarium lighting, gravel, and other décor. I have had great success using blue LED lights to make these ornaments really pop.
You might be interested in these: Awesome Star Wars Aquarium Decorations
Lpraer 7 Pieces Glow Aquarium Ornaments Artificial...
【Unique Design】7 pieces glow aquarium ornaments in 3 styles, including 2 pieces jellyfishes glow in...
【Non-toxic Material】Made of non-toxic silicone and plastic material. The soft high-simulation...
【Glowing In The Fish Tank】The jellyfish and small fish does not glow automatically in the dark. They...
【Easy To Make It Alive】Just need to fix suction cup, it attaches by thin invisible line.
【Wide Range of Application】Silicone fish tank decorations are perform well in most conditions, both...
Handmade "Living" Christmas Tree Aquarium
For something quite personal, why buy a cookie-cutter ornament when you can come up with your own flashing Christmas tree with real aquatic plants, like this from The Small Scape?
Cut an aquarium background with a craft paper or black background poster, then use filter floss and a submersible LED light strip to create a tree shape, cover it with moss, put a LED light in a Ziploc bag as the base of the tree, top off your tank with an aquarium lighting. So easy, so ingenious!
For added flair, put your creativity on full display by adding branches and slate rock around the base of your tree. Consider adding other Christmas ornaments if you want to bring your tree to life.
DIY Beautiful Aquarium with Church and Christmas Trees
To make aquarium décor that's pretty to look at and maximize the Christmas cheer, no problem! Try this amazing DIYing Christmas aquarium church from No1 IDEAS.
The project is mainly made with ceramic tiles, cement, and paint. There is no worry about the safety of cement, as it is a non-toxic aquarium-safe material. It has been used in our other DIY aquarium projects, such as caves, background, and stand.
DIY Aquarium Castle Decoration
The underwater church is not easy to assemble, but this aquarium castle decoration is a much easier project. It's not only a great way to use up some of those extra Christmas ornaments but also a fun way to get the kids involved in decorating the aquarium.
This castle is made out of cement, sand, and acrylic color, which makes it sturdy and safe for your fish. You can also get into the spirit to add some sparkle to the castle by tying some submersible led lights around it.
DIY Colorful Christmas Aquarium Cave with Stones
This DIY project will turn your collection of colorful aquarium stones into a colorful display.
Using a coconut shell or a Tupperware container as the base, start layering your stones around the perimeter of the container. When you're happy with the arrangement, glue the stones in place with silicone aquarium sealant.
Fill the center of your cave with a few rocks and some gravel to weigh it down. Ensure that any hole in the bottom of the cave is larger and smooth enough to prevent entrapment and injury.
3D Printed Underwater Bikini Bottom
Time is too fast. Now, it's a great time to get crafty with your own 3D-printed holiday aquarium decorations. This amazing bikini bottom tank by Aquarium Info is sure to turn heads.
As you may know, Petco sells SpongeBob ornaments for aquariums, but they are just too small. The best part about this decoration is that you can adjust the size to fit your tank.
To make your own, all you need is a 3D printer and some aquarium-safe filament. In the tutorial, Jamie suggests using PLA filament, but I would recommend ABS or Food-Grade PETG based filament to reduce the risk of dissolution.
Wrapping Up
Now that you've seen the list of 10 creative and gorgeous Christmas aquarium decor ideas that will deck out your tank and get you in the seasonal spirit.
Remember to have fun and get creative! There are so many small ways to make a big impact, like adding a small plant or some sparkly gravel.
Have a very Merry Christmas!
Was this article helpful?