Many aquarium owners have gazed at their newly acquired 55-gallon fish tank and wondered how to create an underwater paradise that will both please the eye and provide a healthy environment for their aquatic friends. 
While 55-gallon fish tanks are not the largest on the market, they are still rather sizable and therefore require some thought when it comes to decoration. 
Below, you'll find a list of cool 55-gallon fish tank decor ideas to help get you started.
Cool 55-Gallon Fish Tank Themes
Some hobbyists go all out with their 55-gallon fish tanks by adding elaborate themes that bring the underwater world to life. Here are a few popular themes to get you started if you're looking for some ideas.
May The 4th Be with You
Do you have a little bit of Star Wars in you? Just let it out by building an inspired Star Wars fish tank. And may the force be with you always.
For this project, you won't need to invest in a lot of special equipment or spend much time on it. You'll need bright gravel, glowing aquarium plants, and a few Star Wars Aquarium Ornaments such as Yoda, an AT-AT Combat Walker, and Darth Vader's helmet. There are tons of interesting Star Wars aquarium decorations available.
Sale
Fish Tank Decorations, Multi Design Optional,...
⚡〖STORY ORIGIN〗: Do you think this is a robot dog? Correction, it's more like the At-at Walker of...
🐠〖SUITABLE SIZE〗: The aquarium landscaping ornament is made of high material, it is durable and...
💎【REST ASSURED MATERIAL】Made of resin premium material, suitable for fresh water and salt water...
🐡〖CLEVER DESIGN〗: The robot dog has a cave design on its abdomen. The edge of the cave is smoothly...
💎【Rest assured purchase】 - we Support no reason to return and money back.Feel free to contact us...
Cute SpongeBob's Pineapple House
Does your young one love the popular TV show: SpongeBob SquarePants? If so, why not bring their favorite character to life by setting up a SpongeBob-themed 55-gallon fish tank?
We love the idea of using the Penn-Plax Pineapple and Squidward's Aquarium Ornaments as the perfect SpongeBob home. Then, you can add some live plants and colorful gravel to create a lush underwater landscape. Additionally, don't forget to add a few of SpongeBob's friends like Patrick, Sandy Cheeks, or Mr. Krabs.
Sale
Penn-Plax Spongebob Squarepants Officially...
OFFICIALLY LICENSED: This aquarium ornament is great for anyone who loves the hit Nickelodeon show,...
MADE OF SAFE AND DURABLE RESIN: Our aquarium ornaments are inspected with your fish's safety in mind....
SUPER SIMPLE TO CLEAN: Simply wipe down and rinse off the aquarium ornament with warm water when you are...
BRING THE WORLD OF SPONGEBOB HOME: Perfect for adults and children! This fun aquarium decoration will...
MEASUREMENTS: SpongeBob's Pineapple House measures approximately 3" (Dia) x 5.25" (H). It will fit...
Give Your Tank A Magical Touch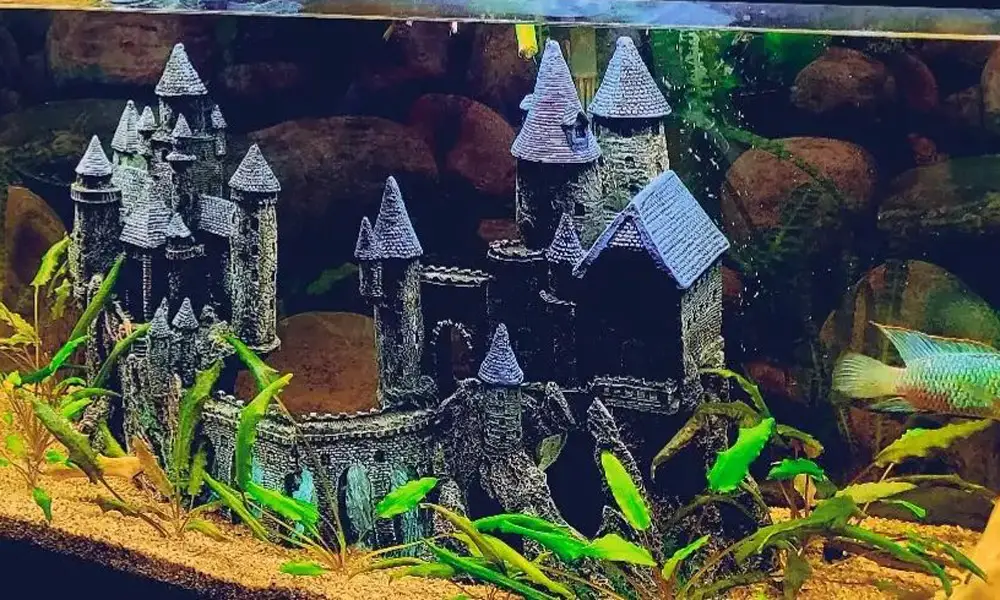 As the saying goes, you can't have your cake and eat it too, but that clearly doesn't apply to the world of wizarding. What I'm saying is, you might not think that it's possible to make your fish tank festive with Harry Potter themes and still have healthy fish, but that's not true.
As if by magic, there are many ways to bring the magic of Hogwarts into your 55-gallon fish tank. You don't have anywhere to start but with a Hogwarts Castle Aquarium Ornament. 
Penn-Plax Age-of-Magic Wizard's Castle Aquarium...
MAJESTIC AND MYTHICAL: Add some whimsical charm and wonder to your fish tank with the Extra Large...
2 HALVES OF A WHOLE: The Extra Large Wizard's Castle Aquarium Decoration comes in two pieces: Part A...
MADE OF SAFE AND DURABLE RESIN: Our aquarium ornaments are inspected with your fish's safety in mind....
SUPER SIMPLE TO CLEAN: Before placing into your tank, or as you as perform regular cleaning and...
MEASUREMENTS: Overall = 12.75" (W) x 6.5" (D) x 14" (H)
Get crafty with some live plants and gravel to create an enchanted magic world that your fish will love. You can even add a bubbler to give the illusion of a Hogwarts Express passing through.
This one is simple, but does require a bit of creativity on your part.
Get Your LEGOs Out
Believe it or not, LEGOs are safe for fish tanks as long as you take a few precautions. Before adding LEGOs to your 55-gallon fish tank, ensure they are cleaned and free of harmful chemicals.
Depending on what lego sets you to have, you can create all sorts of different underwater scenes. The Disney sets, for instance, enable you to transport the classical characters into an underwater world. Or if you're feeling a little bit more adventurous, check out the LEGO Mario set – perfect for creating an action-packed aquarium scene.
"Finding Nemo" or "Finding Dory"
Penn-Plax Finding Nemo Resin Ornament, Nemo and...
Finding Nemo Resin Ornament 6" H Nemo and Marlin Nemo and Marlin are reunited!
These two characters are together on this resin ornament which has a green mossy bottom and a blue and...
Crafted from safe and durable resin.
Great for either freshwater or saltwater aquariums
This one is for all you Pixar fans out there. Unfortunately, these charismatic "fish" in the film "Finding Nemo" and its sequel "Finding Dory" wouldn't get along in a real-life 55 gallons aquarium, as they require a lot more space [1].
The good news is that we can still create a similar tank that resembles the one from these popular films. All you need is colorful and bright gravel, a "busy" coral background, Disney stickers, and some fun aquarium ornaments of your favorite "Finding Nemo" and "Finding Dory" characters.
Keep the Peace
Let's face it: For many of us, the aquarium is somewhere we can go to feel relaxed and at peace after a long day, so why not create a zen-like environment that embodies those feelings? 
This type of aquarium is all about simplicity and can be created with just a few key elements. To design a tranquil zen garden in a 55-gallon fish tank, add in light-colored gravel, live plants that have tall, slender leaves, stone caves, as well as a Buddha statue to balance everything out.
Be sure to keep a close eye on your arrangement. After all, the fish's needs are always our #1 priority.
Amazon River-Themed aquarium
If you're the kind of fish keeper who likes to recreate an Amazonian biotope tank, with plenty of Sumatra wood, pale sand, Indian Almond Leaf, and majestic Altum angelfish, you might love the idea of a natural Amazon River-Themed aquarium.
This type of themed aquarium is not for the beginner for two main reasons. Firstly, angelfish is a very delicate species that require a lot of care. Secondly, you will need a blackwater effect that looks natural, but not so intense to spoil the entire view. The latter requires the aquarist to have extensive knowledge regarding water chemistry and the necessary filtration system to maintain it.
African Great Lakes Biotope Aquarium
Last but not least, the 55-gallon fish decor idea on our list is the African Great Lakes Biotope Aquarium. As you can imagine, this themed aquarium is perfect for those passionate about African cichlids.
Most magnificent African cichlids aquariums are characterized by a rocky landscape with plenty of caves and crevices. The rocks are usually arranged in a way that forms terraces and swim-throughs, providing the fish with plenty of places to hide and explore. The lighting should be bright to bring out the colors of these beautiful fish.
Aquascaping 55 Gallons Fish Tank
While a 55 gallons fish tank is not the perfect size for aquascaping because of its limited depth, it can still be done with creativity. 
Iwagumi (Nature) Aquarium
Iwagumi is one of the four main styles of Nature Aquarium. The other styles are Ryuboku, Mizube, and Ragwork.
Since Takashi Amano [2], the author of Nature Aquarium World, introduced the Iwagumi style of aquarium design in the 1980s, it has become one of the most popular ways to aquascape in the freshwater planted aquarium hobby.
An Iwagumi aquarium typically contains two main types of decorations: rocks and plants. The most defining characteristic of this style is its stripped-down nature. That's why it's called a 'rock garden' in Japanese.
An Iwagumi aquascape design is simpler to achieve in an aquarium that's wider from front to back than tall. If you're set on this style in a 55-gallon fish tank, your best bet is to use smaller rocks and arrange them closer together.
Mixing only species of display fish into the design can be a special way to complement the natural beauty of the aquascape.
Interested in setting up an Iwagumi aquarium? Check out these two dedicated guides:
Dutch Aquarium
Another major aquascaping style in the aquarium world. Similarly, the Dutch Aquarium style does not rely on hardscape materials, such as rocks or wood, and instead focuses on various aquatic plants. 
In contrast to other types of aquariums, Dutch aquarium planting is commonly recognized for its high density, strong color contrast, and delicate texture.
The challenge of replicating a Dutch Aquarium in a 55-gallon fish tank is to create a sense of terracing using plants.
Terracing is an efficient way of creating focal points in your landscape design. This can be done by following the rule of thirds, which says that the viewer's eye will naturally be drawn to one-third of the image Plane. In Dutch aquascape designs, red or large plants are usually used to draw attention to the focal point.
Here is a gorgeous 55-gallon Dutch aquarium for your inspiration.
Go Jungle!
Contrary to popular belief, the Jungle-style aquarium looks harder to accomplish because of the heavy plant growth, but the fact is that it's possibly the easiest type to replicate.
Just as the name may suggest, this style of aquascape is defined by its various vegetation of a wild and untamed setting. The goal is to create an underwater jungle with a variety of different plants, both tall and short.
Different from the well-trimmed Iwagumi aquascaping style, a Jungle style mainly harnesses the natural growth of live plants; therefore, it does not need everyday trimming. Nonetheless, both types of aquascaping require deep research on which plant species will give your tank that desired effect.
If you want to go for the Jungle feel, here are ideas of what to do with your 55-gallon fish tank.
Self Sustaining 55 Gallon Jungle Aquascape Update
In this video, you will see a 55-gallon self-sustaining aquarium setup that is thriving and is very low maintenance. The beauty of this aquarium is that the plants help to keep the water clean while the snails and shrimp eat algae and provide nutrients – it's almost like it takes care of itself!
55 gallons Overgrown Jungle Tank
As you see, Jungle style aquarium barely has hardscape materials like rocks and driftwood, as well as plenty of open space. Instead, it's mostly populated by tall, large-leaved plants and various 
schooling fish and snails. Of course, the possibilities are endless, and you can always get creative with your 55-gallon fish tank.
Final Thoughts
Now you are equipped with 55-gallon fish tank ideas and different types of aquascaping styles. It's time to decide which is your favorite and start replicating it in your own 55-gallon fish tank. 
As you can see, there is a number of options to choose from. If you are unsure where to start, we recommend you pick the style that best suits you in terms of difficulty level and time commitment. After all, the most important part is to have fun and enjoy the process!
Article Sources:
How To Care For The Fish Of Finding Nemo and Finding Dory [BulkReefSupply]
Nature Aquarium Creator: Takashi Amano [AquascapingLove]
Was this article helpful?