More than twenty years have passed since the Harry Potter and the Philosopher's Stone movie first hit the big screen, but the wizarding world continues to be a place full of mystery and enchantment.
Potterheads around the world are always looking for new ways to show their love for the series. Some people dress up as their favorite characters, others re-read the books every year (or even more often), and some collect all kinds of Harry Potter memorabilia.
As a fish keeper as well as a true Potterhead, what better way to do that than with a Harry Potter-themed aquarium? That's why we've collected some of the best Harry Potter aquarium decor goods and DIY ideas out there, so you can turn your fish tank into a wizarding underwater world.
Hogwarts Castle Aquarium Ornament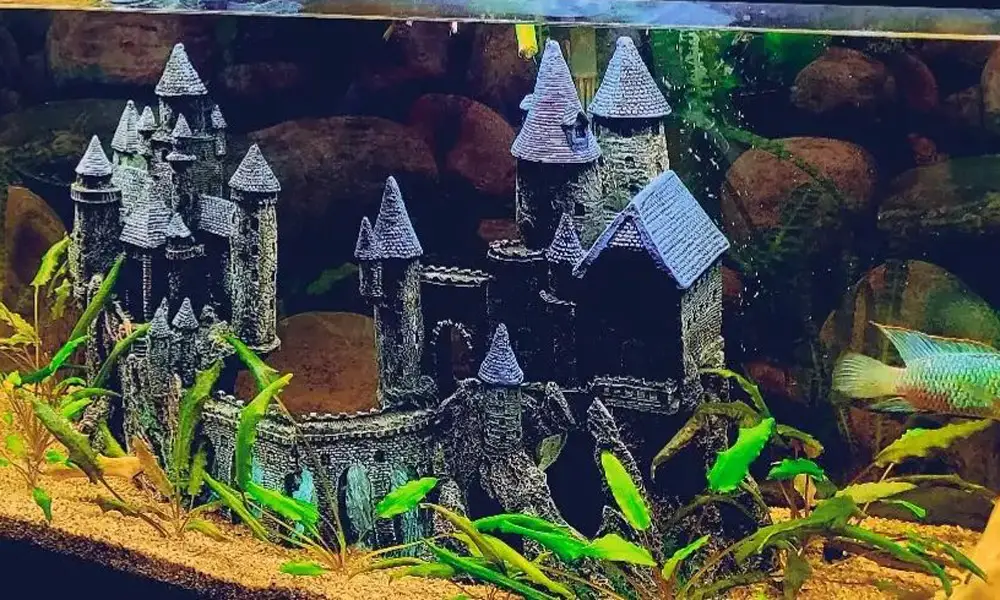 In here, professor Minerva McGonagall is teaching a Witchcraft class; in here, Severus Snape is lurking in a dark corner, waiting to give someone detention. This Penn-Plax Hogwarts Castle Aquarium Ornament is an impressive 14.5 inches tall, making it the perfect centerpiece for any Harry Potter-themed aquarium.
The Hogwarts Castle has two pieces, Part A (7″ D x 13.5″ W x 14.5″ H) and Part B (8″ D x 12.8″ W x 14.8″ H), that are sold separately. You can either use both pieces in your aquarium or split them up and use them as decorations in different tanks, depending on your stocking ideas and tank size.
Penn-Plax Age-of-Magic Wizard's Castle Aquarium...
MAJESTIC AND MYTHICAL: Add some whimsical charm and wonder to your fish tank with the Extra Large...
2 HALVES OF A WHOLE: The Extra Large Wizard's Castle Aquarium Decoration comes in two pieces: Part A...
MADE OF SAFE AND DURABLE RESIN: Our aquarium ornaments are inspected with your fish's safety in mind....
SUPER SIMPLE TO CLEAN: Before placing into your tank, or as you as perform regular cleaning and...
MEASUREMENTS: Overall = 12.75" (W) x 6.5" (D) x 14" (H)
The castle is well constructed and has a big internal cavity that allows fish to hide out. I started with Part A in my 55 gallons tank, which looked great, but I wanted to add a bit more of a wow factor, so I added Part B as well. You could use both pieces together if you have a larger tank. 
My only complaint about this ornament is that it has some sharp edges inside that could hurt fish, so I had to sand down the sharp points and rinse off the dust before putting it in my tank.
'Witches and Wizards' Themed Aquarium Substrate
According to J.K. Rowling's thoughts: [1]
Witches and wizards often reveal themselves to each other in public by wearing purple or green, often in combination.

J.K. Rowling's thoughts
In addition to ornaments, you will want some "magic" gravel to decorate your harry potter aquarium. The GloFish Aquarium gravel is just the thing to add suggestive color to your aquarium. Pairing it with some purple crystals and cave ornaments will definitely make your fish tank look like it's right out of a movie set!
Once again, as I mentioned in the Halloween & Christmas aquarium decorations, changing your gravel is not an easy task, and it comes with risks. Ensure to closely monitor the water for ammonia and nitrite spikes.
GloFish Aquarium Gravel, Green Fluorescent,...
AQUARIUM GRAVEL: GloFish Aquarium Gravel creates a colorful base for all your GloFish ornaments.
RANGE OF COLORS: Choose pink, green, white, black with fluorescent highlights, or a mix of colors.
BASK IN THE GLOW: Fluorescent-accented gravel stands out under GloFish blue LED lights.
HIGHLIGHTS YOUR TANK: Use as a substrate or accent, along with GloFish plants and ornaments (sold...
EXPERIENCE THE GLO: GloFish fluorescent fish and products create a complete underwater fluorescent...
Hogwarts Aquarium Background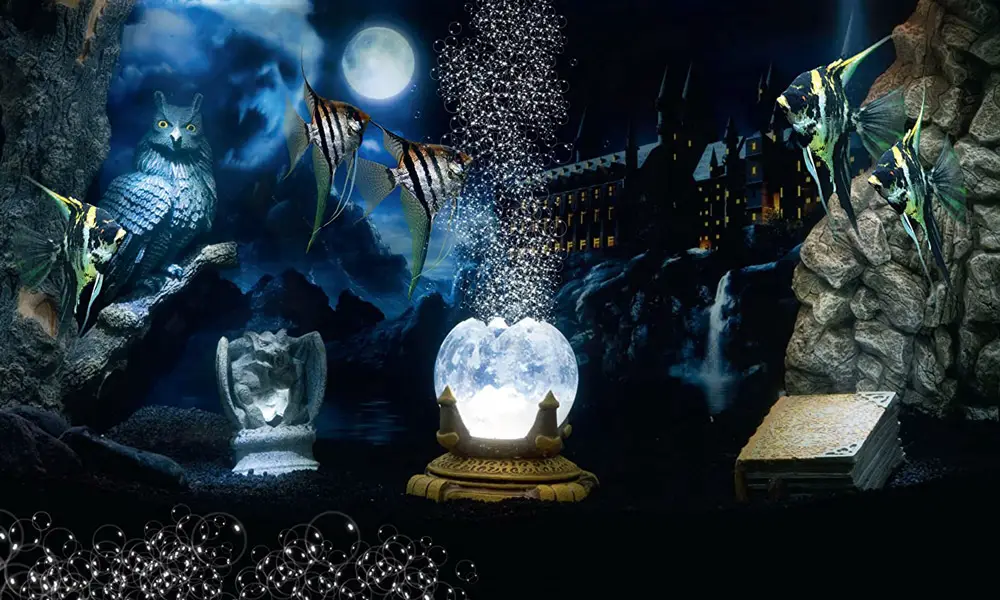 Do you still remember the spectacular sight when Harry, Ron, and Hermione arrive at the Hogwarts grounds for the first time? As they looked up at the imposing castle on the cliff above them, they were in awe of its size and beauty.
Now, you can recreate that scene in your harry potter aquarium. With this peel-and-stick background, you can achieve the beloved Hogwarts look right at home.
This amazing aquarium background is 31.5″ x 15.8″, so it will fit most standard medium-sized tanks. 
Unlike self-clinging vinyl black aquarium backgrounds, you have to use the included gel to apply it to the back of your aquarium. It's easy to apply when setting up a new aquarium, and there's no water in the tank. 
For those who currently have fish in their tanks, I recommend using a little tape to keep it from sliding, as the gel doesn't work well.
Hydor H2Show Magic World Background with...
3 Different Background Designs to Choose From
Includes Sea-Clear Application Gel
The exact dimensions on the product we measured is 31.5" X 15.75". Fits standard 29 gallon tanks and...
Lego Quidditch Aquarium
Lego Tank
Perhaps one of the most memorable scenes in the Harry Potter series is the first Quidditch match between Gryffindor and Slytherin. Now, you can relive that scene in your harry potter aquarium with LEGOs.
This set includes everything you need to build a miniature Quidditch pitch, including goal posts, Gryffindor™, Slytherin™, Ravenclaw™, and Hufflepuff™ house towers. You can even add your own Lego minifigures to represent the players.
LEGOs are easy to click together and stay together, but you have to use a little bit of aquarium silicone to secure them to the bottom of the aquarium. Also, LEGO is mostly made of ABS plastic,  which is commonly considered aquarium safe.
DIY – Harry Potter Aquarium FAIL
Whether you're inspired by the Harry Potter series, or you just want to show off your Hogwarts pride, DIYing your aquarium in a Harry Potter theme is a fun and easy way to do it.
In this video, John from KGTropicals shows you how to make a Harry Potter-themed aquarium using inexpensive and easily-found materials.
Unfortunately, this project was a "tragic" fail. The issue arose when John used uncured clay to create an ornament. It dissolved in the water and made the entire aquarium murky. 
It's worth noting that only baked stoneware clay is supposed to be inert, while oil base or polymer clay should be avoided as it will lose color and become brittle.
Personally, I would suggest using clay to make a mold, then pouring resin to create ornaments. It's more expensive upfront, but it will save you a lot of headaches (and money) in the long run.
Despite the fail, it's still a great video to watch, and John and other fish keepers offer some valuable tips.
Final Thoughts
The saying " you can't have your cake and eat it too " doesn't apply to wizards and witches. What I mean is, you can have an amazing harry potter decor and still have your cake (of fish).
As if by magic, these Harry Potter aquarium decorations will transform your tank into something truly magical. Whether you want to add a little bit of Hogwarts to your home or recreate a memorable scene from the movies, there's definitely something for everyone.
Hopefully, this post has helped inspire you to get creative! Happy Decorating!
Article Sources:
Colours By J.K. Rowling [Link]
Was this article helpful?